Cardinal Credit Union: Empowering Young Adults Through Financial Literacy Education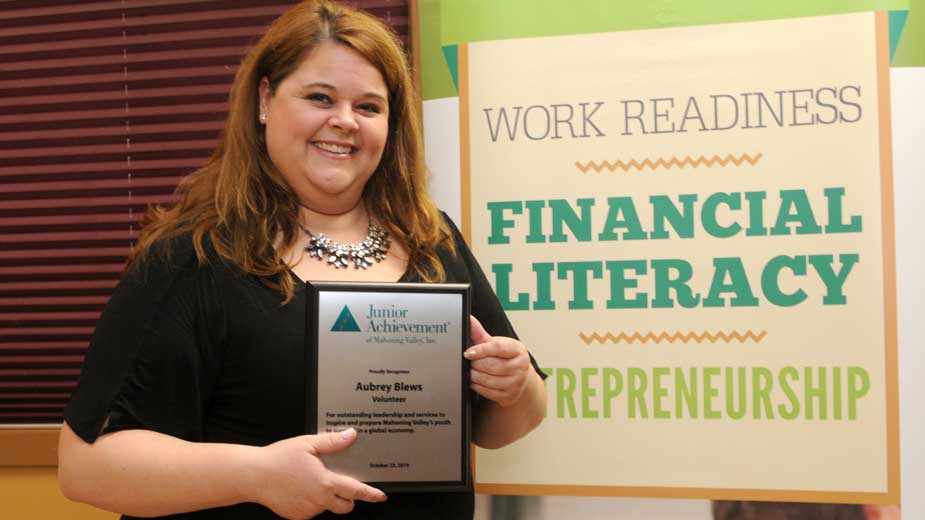 YOUNGSTOWN, Ohio — A group of Youngstown State University students in a national co-ed professional fraternity gave up their winter and spring breaks to teach marketing, finance and entrepreneur skills to kids as part of Junior Achievement.
The marketing students were among 10 volunteers and businesses honored Tuesday morning at the Junior Achievement of Mahoning Valley's recognition breakfast.
The nonprofit organization is celebrating 100 years of providing education in financial literacy, college and career readiness and entrepreneurships through business partners and volunteers from Columbiana to Ashtabula. JA President Michele Merkel reported the 584 volunteers served 12,192 students in 87 schools.
To recognize the anniversary, Butech Bliss stepped up its longtime sponsorship level and was honored as the 2019 Centennial Sponsor. Since 2010, the Salem-based company has supported JA programs by volunteering more than 1,700 hours to teach 331 students, and has contributed $16,000 in financial support since 2013. Butech Bliss manufactures heavy mill equipment.
Pi Sigma Epsilon and Woodforest National Bank were honored as Volunteer Organizations of the Year. YSU senior Michael Sabatini and sophomore Judin Balella accepted the award on behalf of the fraternity.
"I wanted to be a part of this to help the community and teach skills to younger students that aren't always taught in schools," Sabatini said. He shared marketing and sales expertise with middle school students to help them develop effective pitches.
The two were joined by fellow students Daniel Raver, Kennedy Stanko, Anthony Nakley and YSU marketing professor John Rossi, who advises the group. The fraternity members volunteered 1,000 hours through mentoring programs, business and financial seminars, as well as mentoring high school students for a scholarship competition and job readiness lessons, connecting with 254 students in 14 area schools.
"I feel empowering young adults makes a difference," Balella said. "Sharing knowledge is important. You become close to the kids."
An international student from Italy who has been living with an area host family, Balella said he chose to attend YSU because of the Williamson College of Business Administration. Along with volunteer, he's enhancing his education through an internship with Sweeney Chevy Buick GMC in Boardman.
"I've been able to write scripts, learned about budgeting, sponsorship events and shadowing some of the top salesmen," he said. "It's a great opportunity."
Woodforest National Bank volunteers taught 1,015 students in 47 K-8 classes in East Palestine. Last year Woodforest adopted all 8th grade classes at East Palestine Middle School, teaching the JA Economics for Success program.
Aubrey Blews has provided opportunities for kids for more years than the JA database tracks. Since 2007, the Branch Manager for Cardinal Credit Union has taught 41 classes in Boardman, Liberty, Youngstown and her hometown of Girard, clocking in more than 5,000 hours and mentoring 900 students ranging from 2nd grade through high school.
"I don't really remember when I started, but I remember they reached out and I wanted to help kids and it exploded from there," she said.
Teaching kids about financial responsibility is important to Blews, she said, because it empowers them to understand the importance of good financial habits. She said she doesn't remember hearing about credit scores when she was in school.
"I feel like I've been making an impact and that's been my mission all along," she said.
Past Board President Ryan Pastore, VP of client and community relations for PNC Bank was also recognized for his service.
Other companies and volunteers honored for their support and contributions to JA were:
AT&T as Education Partner.
Pizza Joe's as Program Partner.
Cortland Bank for Special Events.
Volunteers Debbie Kreatsoulas, Elaine Rousseau-Kothera and Chad Vavpetic.
Copyright 2019 The Business Journal, Youngstown, Ohio. By Lisa Solley.