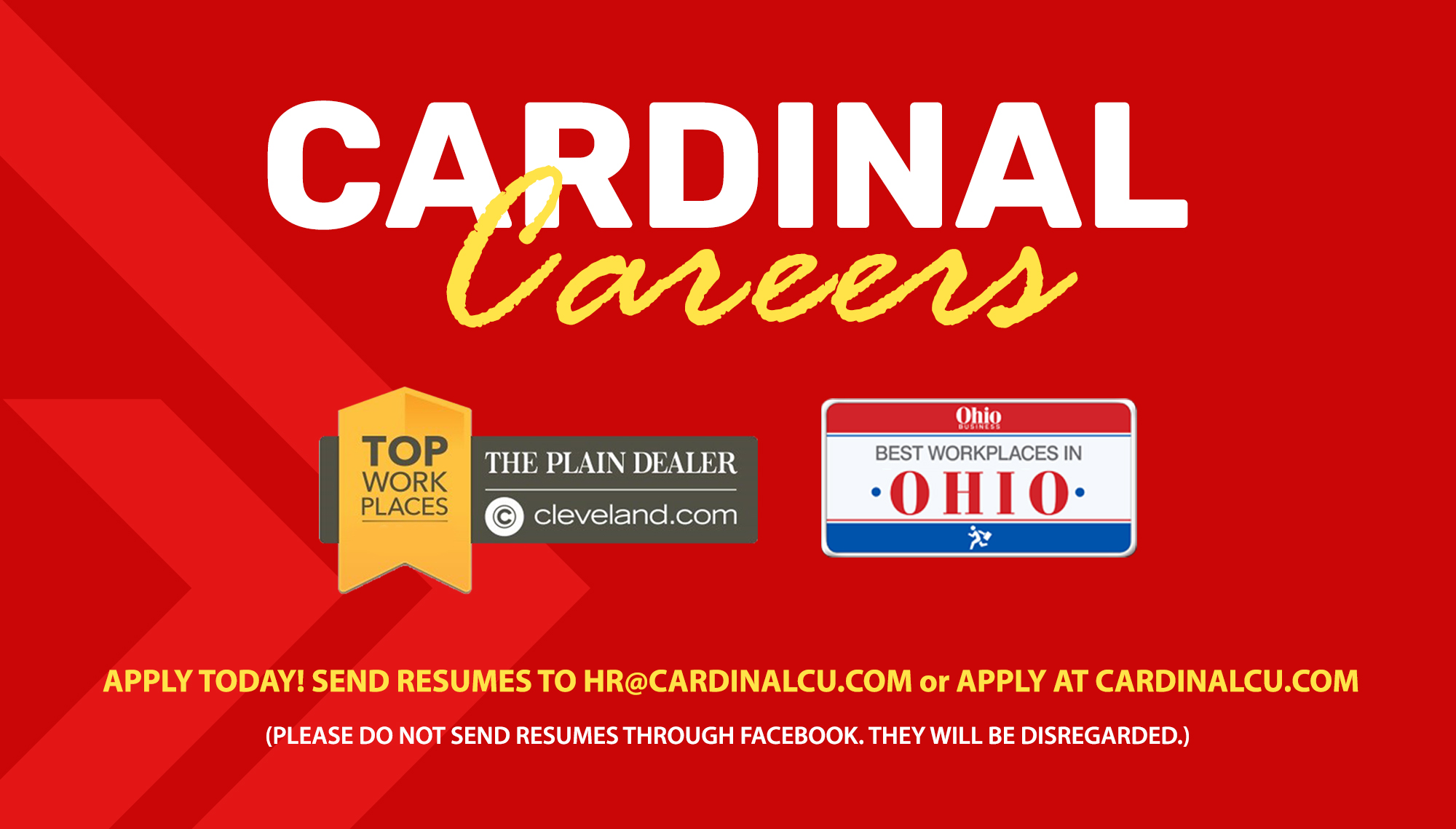 Are you searching for an opportunity to make a real impact, experience professional growth, and become a respected member of one of the 200 Healthiest Credit Unions in the nation?
Here at Cardinal, we believe in creating a strong culture that encourages and supports teamwork, integrity, mutual respect, and accountability; our core values. Our goal is to provide an inclusive, collaborative, and engaging workplace where staff is challenged to do their best. Cardinal strives to create a culture supporting ideas and innovation, and offers various opportunities for both personal growth and professional development. An intensive management training program is the cornerstone of our strategic growth plan: it instructs teammates to seek unique solutions for financial challenges; invigorates collaboration and teamwork, causing staff to think outside the box. This creativity ultimately enhances the lives of families in our service communities, which in turn serves as an economic stimulus for Ohio residents.
Cardinal Credit Union is a member-owned, not-for-profit financial institution. We offer a dynamic, professional workplace where respect for membership and staff is of utmost importance. Our Vision is to operate a not-for-profit financial cooperative committed to delivering great rates, superior service, financial literacy education, and sound money management to valued members and the communities we serve.
Cardinal Credit Union was selected by The Cleveland Plain Dealer as a Top Work Places and one of the Best Workplaces in Ohio.
Cardinal is expanding
We are currently seeking dependable, highly-motivated individuals to join our organization. If you are interested in an employment opportunity with Cardinal, please review the current openings listed below and select the position you wish to apply.
Our competitive benefits package includes: medical, prescription, dental, vision, life, long-term disability Insurance, generous 401(k) plan, paid time off and holidays, loan discounts, tuition reimbursement, and a generous incentive program.
Cardinal Credit Union is an Equal Opportunity and Affirmative Action Employer committed to engaging a diverse workforce and sustaining an inclusive culture. All qualified applicants will receive consideration for employment.
We are a non-smoking workplace.
If any positions are available, you can apply below:
Full-Time Employee Benefits
We offer excellent compensation and benefits including: employer portion paid medical, dental, and life insurance, 401(k) with employer matching, supplemental insurance, PTO. Loan discounts and most account fees waived.
Part-Time Employee Benefits
For part-time employees, we offer both paid vacation and a 401(k) plan with employer matching.