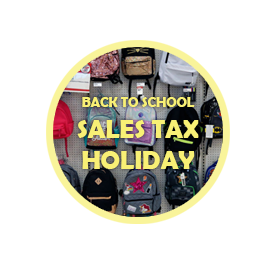 Ohio's sales tax holiday: What back-to-school shoppers need to know
By Laura Hancock, cleveland.com | Posted July 31, 2018 at 03:32 PM
COLUMBUS, Ohio – Parents and students who shop for clothes, school supplies and instructional materials will save some change this weekend, thanks to a sales tax holiday.
The Ohio General Assembly adopted a legislation to create the "holiday" for this weekend. In future years, the sales tax exemption period will also occur on the first weekend of each August.
This year's holiday is from 12 a.m. Friday until to 11:59 p.m. Sunday.
(Rogelio V. Solis, Associated Press)
Keep in mind the per-item exemption is strictly at $75 or less. If you buy an $80 pair of shoes, you will have to pay sales tax on all of it.
School supplies
The Ohio Department of Taxation has a long list of school
supplies that will be tax-free this weekend. To qualify for the
exemption, they must each cost $20 or less:Binders, book bags, calculators, cellophane tape, blackboard chalk, compasses, composition books, writing tablets, legal pads, notebooks, crayons, erasers, folders (expandable, pocket, plastic and manila), glue, glue sticks, highlighters, index cards, index card boxes, lunch boxes, markers, paper (loose-leaf, copy, colored, tracing, manila, construction and graph paper), poster board, pencils, pens, pencil boxes, other school supply boxes, pencil sharpeners, protractors, rulers and scissors.
The state defines school instructional materials as the following: reference books, reference maps, globes, textbooks and workbooks. The limit is $20 per item to get the sales tax break.
What if I'm purchasing these items for my business? 
Sorry, but the tax exemption doesn't apply to clothing, school supplies and instructional items that you would use in business or trade. The Department of Taxation says you are obligated to report the purchase and pay taxes in your regularly filed return, personal income tax return or use the VP-USE form.
However, if you're buying a pad of paper to correspond with your grandmother, which has nothing to do with school, you will still be exempt. The holiday applies to items, not reasons for buying the items — with the exception of business and trade.
Discounts
Many shoppers like to hit the sales. Items will be tax-free if, with the discount, they cost $20 or less for school supplies and instructional materials or $75 or less for clothing.
Online Shopping
For people who shop online, the qualified items will be exempt from sales tax if the shopper orders and pays for the item, and the retailer accepts the order, during the sales tax holiday, even if it is delivered after the holiday.
Items delivered on the holiday but ordered before do not qualify. Nor do backordered items if payment isn't made until a later shipment date.
All retailers must comply, as it is set in state law.
If an online or brick-and-mortar retailer doesn't exempt sales taxes, the Department of Taxation has instructed shoppers to take the receipt to them and seek a refund for the sales taxes.
Retailers should refund  any consumer who was charged sales tax on an exempt item during the weekend.
Large retailers, such as Amazon, have policies in place to accommodate shoppers in states with tax holidays.
Original article: Cleveland.com