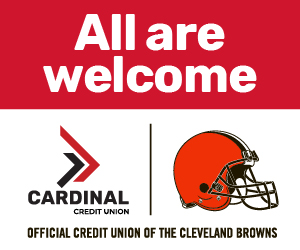 CARDINAL CREDIT UNION TEAMS WITH THE CLEVELAND BROWNS TO LAUNCH LIL BROWNIES SAVING PROGRAM FOR KIDS; NAMED THE OFFICIAL CREDIT UNION OF THE BROWNS
MENTOR, OHIO, August 8, 2023 – The Cardinal Credit Union, a member-owned, not-for-profit financial cooperative serving the community through high performance banking products and services, is joining forces with the Cleveland Browns as the official credit union of the team. As part of their alliance, Cardinal is launching a series of financial education initiatives aimed at educating today's youth on financial matters. The multi-faceted program officially launches today.
"Early education on financial wellness is a critical need today to set young people up for future success," said Christine Blake, CEO, Cardinal Credit Union. "Our new program – Lil Brownies Savings – is a great way to bring a winning strategy for financial education. Financial education has been a passion of ours through the work we have been doing in the community and with local area high schools for more than a decade. Now we are expanding our reach to include elementary and middle-school-aged children with the support of the Cleveland Browns."
With this initiative, Cardinal will be able to extend its impact in the community. Lil Brownies along with their parents will be able to open a free account with a Brownie the Elf debit card. Parents will be able to provide oversight for interactive financial activities including parental card controls, transaction requests and notifications, parental allowances and payment for grades, budgeting, and youth financial education tools. The accounts can be opened online or at any of Cardinal's seven retail branches.
Other perks for active Lil Brownies account holders include being placed in a drawing for autograph sessions at the Browns' training camp and for club seats to a Browns' home games.
"Our partnership with Cardinal Credit Union presents a unique and exciting opportunity to engage with our younger fans across Northeast Ohio through financial education," said Erica Muhleman, Senior Vice President of Corporate Partnerships for the Cleveland Browns. "Cardinal Credit Union is passionate about supporting financial well-being and together with the Browns, the Lil Brownies Saving program will bring new and meaningful initiatives that positively impact our community's youth."
Cardinal Credit Union provides financial education throughout the community with an integrated financial education program at six area high schools and Lakeland Community College, where Cardinal operates several in-school branches. It is here that students have a chance to learn more about positive money management through a hands-on approach. All partner high school students with a school-branded debit card are eligible to obtain a Brownie the Elf savings card. This allows high school students to create positive financial habits while also being entered to win club seat tickets for Browns home games.
Cardinal Credit Union also offers its members access to complimentary financial education opportunities such as quarterly financial wellness workshops, in-person monthly Homebuyer Seminars, and a network of more than 20,000 surcharge-free ATMs. Cardinal has established a reputation for low interest rate loans, and higher savings interest rates.
The credit union was recently recognized by the Credit Union National Association (CUNA) with the second overall national ranking for the 2022 Desjardins Youth Award in the category of $250MM to $1B in assets. Cardinal Credit Union is the only credit union in Ohio and one of just 10 nationally to receive this honor.
ABOUT CARDINAL CREDIT UNION
Headquartered in Mentor, Ohio, Cardinal Credit Union is a 70-year-old fiercely independent, member-owned not-for-profit financial cooperative that offers a broad range of banking products and services that people need and use every day – including checking accounts, CDs, credit cards, auto loans, debt-consolidation loans, mortgages and more. As a not-for-profit financial institution, any profits earned by the credit union are returned to its members in the form of fewer fees, lower loan rates, and higher savings interest. Everyone is welcome, and membership is instant. Banking can be done online, via Cardinal's app, or by stopping in at one of its seven branches. For more information, visit our website at https://www.cardinalcu.com/.
MEDIA CONTACT
Janet Brumfield
IdealPR+ for Cardinal Credit Union
janet@idealprplus.com
614.582.9636